Your Western MA Solar Installation Partner
Join the clean energy transition with our expert solar installation services. We work with our clients in communities throughout Western Massachusetts to take control of their energy future and make the shift towards a cleaner, more sustainable power source. Whether you're a homeowner or a business owner in the Pioneer Valley of Western MA, work with us to help create a more responsive and resilient electrical grid.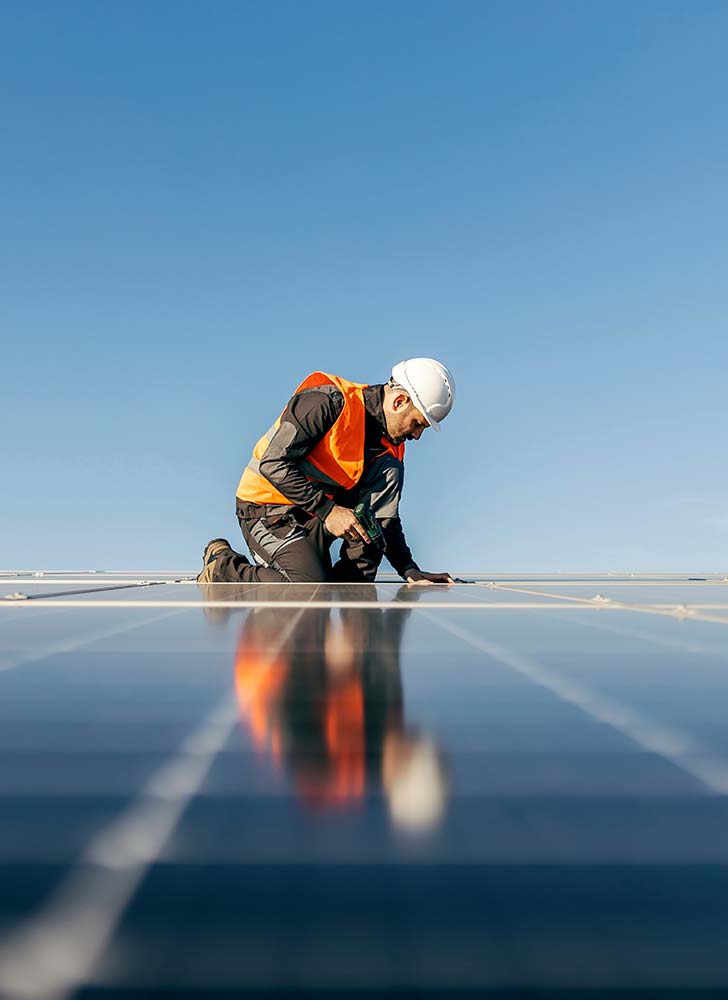 Current Energy, located in Greenfield, MA in the heart of Western Massachusetts, unites experienced solar and electrical professionals to provide integrated energy solutions. While the importance of quality solar panel installation has not diminished, the task has become inherently more electrical in nature. This is because homeowners and business owners in Western MA are also adding heat pumps, EV chargers, and battery storage systems in addition to solar. Solar installation is just one aspect of a larger energy ecosystem. Therefore, it is essential to hire expert electrical professionals who understand the entire energy picture, from the utility transmission to the outlet.
Current Energy specializes in building smart energy systems designed for our clients' individual needs in Western Massachusetts. Our expert installation team consists of a master electrician, journeyman electrician, NABCEP-accredited installation professional, and construction supervisor CSL. We are licensed to install solar in Massachusetts, New Hampshire, and Vermont
Current Energy specializes in building smart energy systems designed for our clients' individual needs. Our expert installation team consists of a master electrician, journeyman electrician, NABCEP-accredited installation professional and construction supervisor CSL. We are licensed to install solar in Massachusetts, New Hampshire and Vermont.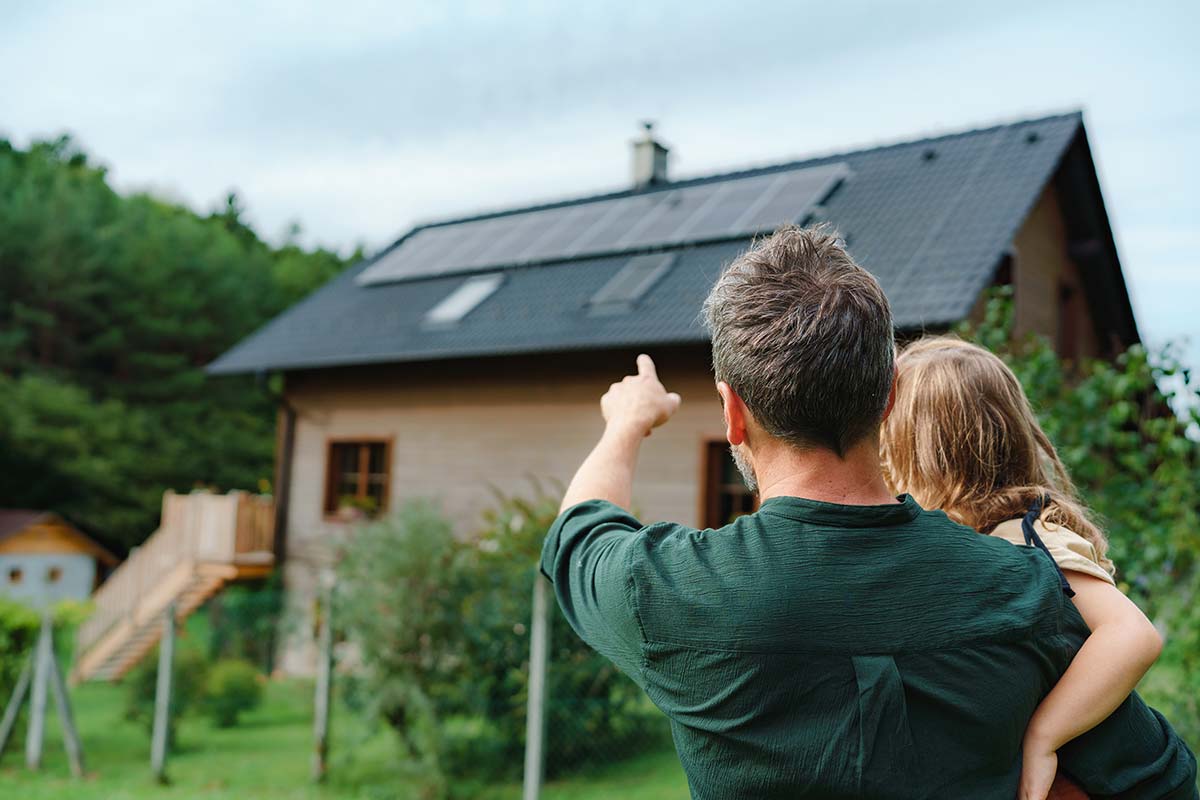 Types of Solar Panel Systems
Current Energy, serving Western Massachusetts (Western MA), offers roof-mounted and ground-mounted solar panel systems manufactured by Qcells, a US-based company committed to affordability, green energy, and the US value chain.
Qcells' Q.PEAK DUO BLK ML-G10+ is one of our go-to solar solutions for clients in Western Massachusetts. This system is the first 400W module for the residential market, and it utilizes Qcells' zero gap Q.ANTUM DUO Z technology to increase efficiency by up to 20.6%. The system also features all-weather technology, an extreme-weather rating for high snow and wind loads, and an inclusive 25-year product warranty.
In addition to manufacturing superior solar panel systems, Qcells also played a key role in crafting a tax credit in the Inflation Reduction Act to revitalize US solar manufacturing. The company invested $2.5 billion into two Georgia facilities that will test the policy's potential to make the US solar supply chain competitive against China. Current Energy is proud to support a domestic manufacturer that is actively reinvesting in the US market while delivering high-quality products to its customer base in Western MA.
Benefits of Solar Panel Installation
Solar panels are a key element in modernizing the electric grid in the U.S. overall and right here in Western MA. By investing in solar panel installation for your residential property or business in Western Massachusetts, you will benefit from cost savings and energy independence while decreasing your environmental footprint.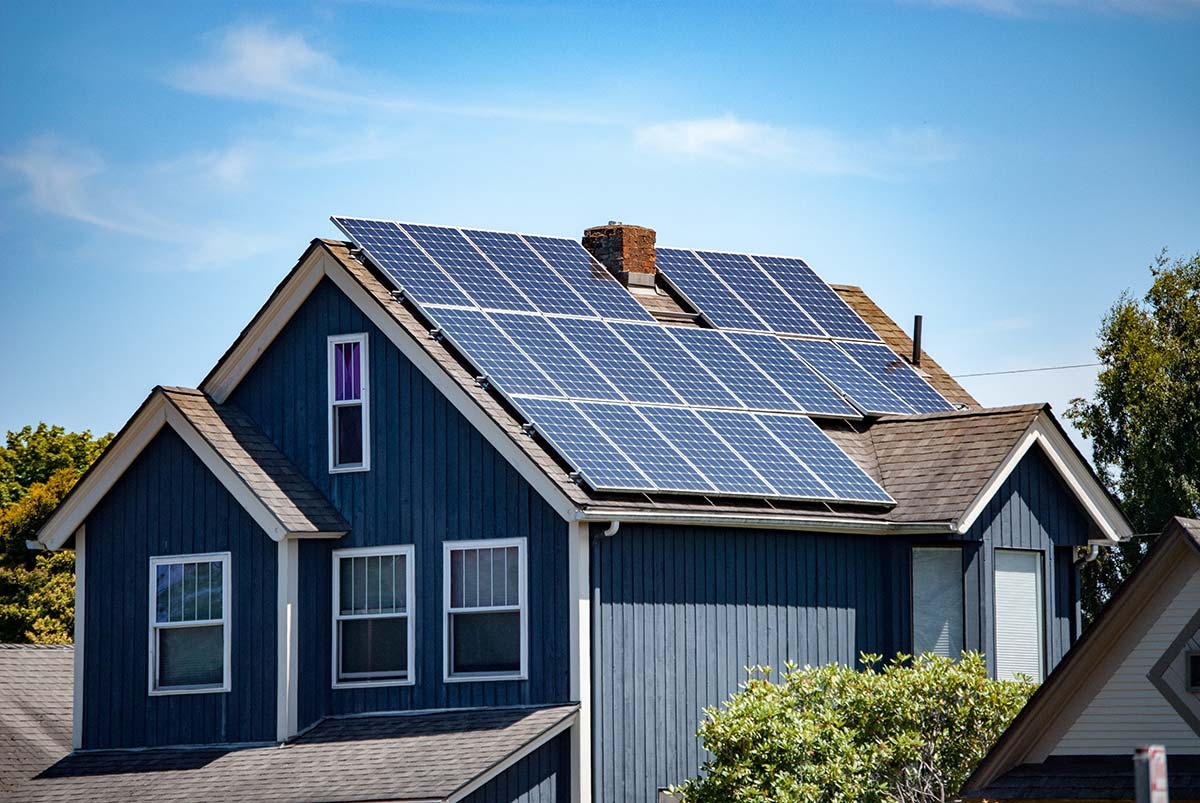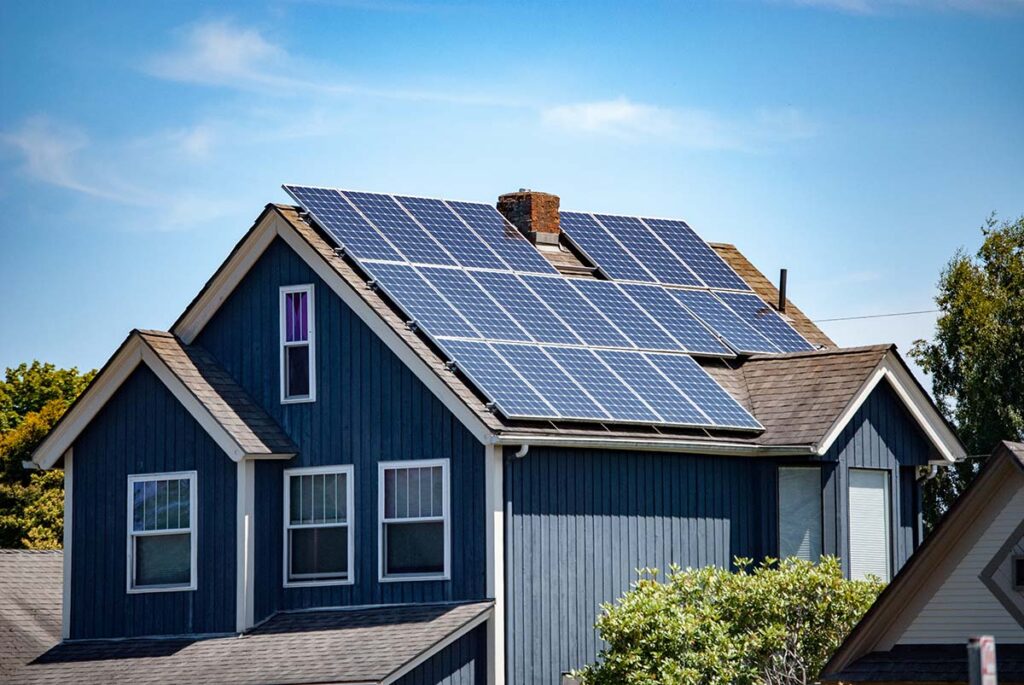 Solar panel installation is an investment that delivers immediate cost savings on your monthly energy bill. Massachusetts has notoriously high utility rates that average $0.29 per kilowatt hour of energy. The typical household uses 9,000 kilowatt hours of energy every year, amounting to $215 per month in electrical expenses. As more households and businesses add heat pumps and EV chargers, this usage increases. In fact, the average EV adds approximately 4,000 annual kilowatt hours of usage, or approximately $90 per month.
Solar panels can significantly offset your electrical costs. Our typical solar panel installation projects are 11.4 kilowatts. These systems generate approximately 13,000 kilowatt hours of energy every year, saving clients approximately $315 per month.
Environmental Benefits for Western Massachusetts
The environmental benefits of solar panels are many. While manufacturing and shipping panels does have a carbon footprint, this is easily offset by the energy savings the system generates. Solar energy has one of the lowest carbon footprints of any energy system. Throughout its first years of operation, a solar energy system produces approximately 50g of CO2 per kilowatt hour, which is roughly one-twentieth the carbon output of coal-powered electricity sources. Therefore, homeowners and business owners who install solar will begin reducing their carbon footprint immediately.
After approximately three years, the solar system will pay off its carbon debt and remain carbon neutral for the rest of its lifespan. The average solar panel system lasts for 25 years and will keep a significant amount of carbon out of the atmosphere during that time by diminishing the need for coal, oil and gas.
Energy Reliability Benefits
By offering solar panel installation services, Current Energy is actively helping clients in Western MA construct their own microgrids that can support the electric grid. Solar power creates the possibility of achieving individual energy independence and resiliency in Western Massachusetts. Your solar panel system will likely produce more energy than your home needs, and you can earn credits for contributing this extra energy to the grid, which can help you save money on your utility bill. If you install batteries in your solar system, you can store your excess energy to utilize during poor weather conditions, at night, and during power outages in Western Massachusetts to achieve true independence from the grid.
Get all the benefits, now!
Solar panels provide numerous financial, environmental and energy reliability benefits to homeowners and business owners. Current Energy combines its extensive electrical experience with solar professionals to design and install high-quality solar panel systems tailored for each property.
Contact us today to learn more about our solar installation services.
Frequently Asked Questions
What services do you offer as a solar panel installer?
We specialize in the design and installation of renewable energy systems, including solar, for residential and commercial properties. Our solar services include assessment of the property, design of the solar panel system, installation, and ongoing maintenance and monitoring.
What types of solar panel systems do you offer?
We offer a variety of high-quality solar panel systems. When considering solar manufacturers, we prioritize efficiency, warranty and the company's integrity. We have therefore partnered with Qcell, a US-based manufacturer with a commitment to supporting our domestic supply chain. Their roadmap for building solar panels aligns with our values as a company.
How do I know if solar panels are right for my property?
Current Energy performs solar panel assessments to determine the feasibility of installing solar panels on your property. We will also estimate your potential savings. Factors such as roof size, orientation, and shading will be taken into consideration.
How do I know if solar panels are right for my property?
Current Energy performs solar panel assessments to determine the feasibility of installing solar panels on your property. We will also estimate your potential savings. Factors such as roof size, orientation, and shading will be taken into consideration.
How much do solar panels cost?
The cost of solar panels can vary depending on the size of the system and the location. We offer free estimates, so please contact us to discuss your specific needs and to receive a quote. In Massachusetts, the average price for an 8.5-kilowatt system before incentives is about $25,000. That cost will vary depending on factors such as equipment quality, roof complexity, pitch and roof type. While there has been a movement towards low-cost installation, we believe that this has only hurt the overall industry and led to subpar design and installation, as well as the failure of many companies from Solar City to Solar Wolf.
Will I still have power during a power outage?
Solar systems are required to disconnect from the utility grid in the case of an outage to protect utility workers from the possibility of electrocution from solar backfeeding. However, if you add batteries to the solar system, you will have power during the outage. Every home is different, and the sizing and design of the battery system is unique to each situation. Smart electrical panels can be incorporated into the system to allow for user control of switching loads on and off in your home.
How does solar panel installation save me money?
Solar panel installation allows you to generate your own electricity, which can reduce or even eliminate your monthly utility bill. The average system size of a solar array in Massachusetts is 8.5 kilowatts. At a decent site, that will produce about 9,800 kilowatt hours of energy per year, amounting to an average monthly savings of $225. Additionally, there are state and federal tax incentives available for the installation of solar and battery systems.
What are the qualifications and certifications of your installation team?
Our installation team is highly trained and experienced in both solar installation and electrical integration. We are composed of licensed electricians and NABCEP accredited installation professionals.
How long does solar panel installation take?
The length of the installation process can vary depending on the size and complexity of the project. We will provide a detailed timeline at the time of consultation, and we will work closely with you to minimize any disruptions to your daily routine. Typically, an 11-kilowatt roof-mounted solar system with a 20-kilowatt-hour battery and Smart panel installation will take about 5 days with a four-person electrical team.
Can I generate enough energy to completely power my home with solar panels?
The amount of energy that can be generated by solar panels depends on several factors, including the size and orientation of the panels and the local climate. We will work with you to determine the optimal solar panel system for your home. We will also let you know if your site is not ideal and will guide you toward alternative options. We are in the business of building solar that works for you.
Will solar panel installation increase the value of my home?
Yes, solar panel installation can increase the value of your home. All of our projects are PEARL certified. We are committed to providing value to our clients for the full life of the solar system.
Will solar panel installation require me to make any changes to my roof?
The installation process might require some changes to your roof, such as drilling holes for mounting the solar panels. We will work with you to ensure that any changes made to your roof are minimal and will not cause any damage.
Is maintenance required for solar panels?
Solar panels generally require very little maintenance. They are designed to be durable and weather-resistant, and they will continue to generate electricity for many years with minimal upkeep. The electrical code requires the incorporation of power electronics with every solar panel. This is to provide additional safety protection including arc fault protection and anti-islanding. The reality is that these components can fail. Therefore, we have partnered with Omnidian Solar, which will actively monitor all of our sites and provide quarterly reports. If there are product failures, they will issue service tickets and get the replacement process moving forward.
Is there any warranty on the solar panel systems you offer?
Yes, all of our solar panel systems come with a warranty, covering both the panels and the installation. The solar panels, racking, and power electronics are warrantied for 25 years. We provide a five-year installation warranty in addition to the partnership with Omnidian Solar.
Are there any government incentives or rebates available for solar panel installation?
Yes, there are tax credits available for residential and commercial solar systems. Additionally, some new incentives are becoming available for municipalities and non-profit organizations. The federal tax credit is 30%, and there is a $1,000 state tax credit for primary residences. Commercial properties could qualify for Modified Accelerated Cost Recovery System (depreciation). In addition to the tax incentives, Massachusetts has net metering available to both residential and commercial services. For small businesses and farms, there are additional state and federal grants available.
Maximize the benefits of solar energy for your home or business. Let Current Energy design and install a high-quality solar panel system tailored to your property. Our team of electrical experts and solar professionals will ensure you get the most out of your investment.
Get in touch with us today to discover how we can help you switch to solar energy.